That Lonely Section of Hell
- Lori Shenher
Si at du er min
- Elisabeth Norebäck
The Darkness Withiin
- Lisa Stone
I denne uka har jeg ikke lest ut en eneste bok, men jeg leser. Jeg leser de samme bøkene som i forrige helg.
Si at du er min
av Elisabeth Norebäck begynte jeg å lese lørdagsnatta, etter å ha lest ferdig
Okkupert
av Bjørn Are Godøy. Vet ikke helt hva jeg synes om
Si at du er min
ennå. Jeg liker språket som virker naturlig ekte, men tror ikke denne boka er noen sensasjon ...
De andre bøkene jeg leser er
That Lonely Section of Hell
av Lori Shenher og
The Darkness Within
av Lisa Stone.
That Lonely Section of Hell
er en true crime bok om jakten på en canadisk og kanskje en noe ukjent seriemorder ved navn Robert Pickton. Det er en interessant true crime bok om mye politiarbeid.
The Darkness Within
leser jeg sammen med en annen bokblogger. Det er en fascinerende bok som stiller mange interessante spørsmål. Kan noen forandre seg til det verre, altså personlighetsmessig etter en operasjon, eller er vi mennesker bare komplekse? Dette er en litt annerledes thriller.
Så i helga blir det både litt true crime og thrillere. Hvis jeg blir ferdig med en av disse før helga er over, er neste bok ut:
The Favorite Sister
av Jessica Knoll. Vet ikke helt om det er min type bok, men noe ga meg lyst til å gi den en sjanse likevel, men usikker på hva. Det er ikke godt å si.
Jeg har også fargelagt i det siste, men er ikke ferdig med motivet jeg holder på med ennå.
Det mangler bare å fylle på grenene med noe grønt, og det i seg selv tar sin tid, og tid har jeg rikelig av. 😊
Motivet er fra denne boka: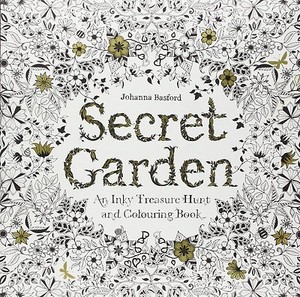 Secret Garden - Johanna Basford
God helg.
Ukas låt:
Westwood Road - Andy Black (Andy Biersack )
---
---